About the Project:
Eye 4 Group wanted to focus on their 4 core areas they focus on (Signs, Design, Fabrication and Promotion). They have had rapid growth in these areas and wanted their clients to be able to view these products at ease. First, we gave them a whole new look and added a slider to focus on the core areas and drew people in on the home page.  We combined the products and services area, so clients can easily view the products they carry, while viewing the portfolio as well. The site is user friendly overall, received a whole new design and draws attention to the key areas that they focus on.
Site Features:
Content Management System
Website Redesign
Responsive Design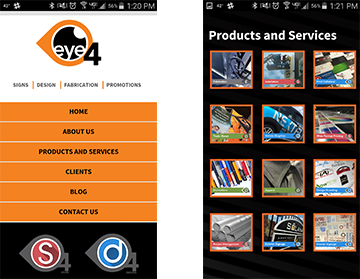 Responsive Design
When clients want to browse your site or purchase items, they want to be able to do this quickly and whenever they would like. That is one of the main reasons, Eye 4 Group had us design a responsive design website that can be viewed on all types of mobile devices. They did not want to take a chance of a client bouncing off their site and losing a sale because it was not responsive design ready.
Content Management System
Eye 4 Group wanted to be able to update products, images and content whenever it was convenient for them. That is why NEXTFLY created a content management system for them.  This system allows them to have control of their site and make edits whenever they choose to.