About the Project:
Flavor Burst wanted a whole new look for their website. They wanted to showcase the products and equipment they sell, along with being able to updated their own content. The slider on the home page draws clients and highlights events, products or promotions they are having. The site is easy to navigate and mobile friendly so viewers can view their site on the go.
Site Features:
Content Management System
Website Redesign
Responsive Design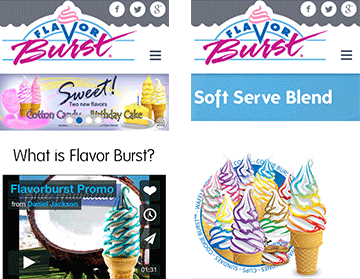 Responsive Design
Flavor Burst wanted their website to be viewed on all mobile devices. As we all know people are always on the go, therefore Flavor Burst's site adjusts to all devices and is easy to navigate from anywhere.
Content Management System
With Flavor Burst adding new inventory and products, they wanted to be able to update their own content. We created a content management system, in which they are able to add and delete photos whenever they arrive in their store. They can also update any of the content on their pages, add or delete photos and maintain their website whenever is convenient for them. Content management systems are ideal for clients who want to be in control of their website if they have events or items they need to constantly update.