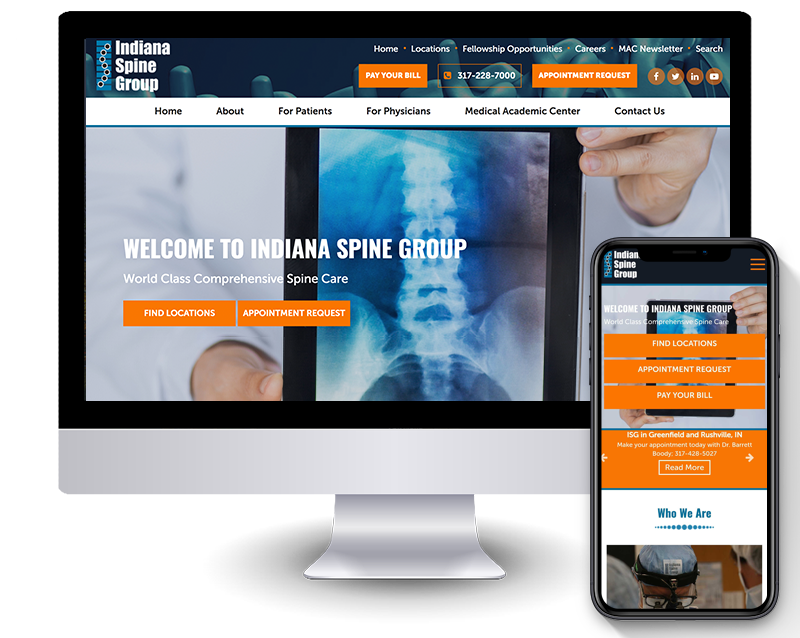 About the Project:
When Indiana Spine Group approached us for a new website, they emphasized the need for something that was new and cutting-edge. Their website became out of date, and it was important to them that they stayed on the top of new trends in website design.
To do this, we designed the website as a one-page flat responsive design. Flat responsive design has become popular across the internet and is an easy new way to navigate.
Site Features:
Content Management System
Website Redesign
Responsive Design

Responsive Design
Mobile device viewing of websites is becoming the norm, that is why Indiana Spine Group wanted a mobile friendly site that viewers can easily navigate. On a mobile optimized site like Indiana Spine Groups, the site will reformat itself to all handheld devices. We added larger navigation buttons, reformatted content, and differently optimized images so they appear functionally on all devices.
Content Management System
We knew that Indiana Spine Group would not have the time to learn coding to keep their website up-to-date. With the addition of a NEXTFLY content management system, Indiana Spine Group can now edit, modify and publish their own content. Not only does their new content management system looks more appealing, but it makes life easier for them overall.
What Our Customers Have To Say:
"When I asked Brett & Julie to give our outdated website an overhaul, they went beyond my expectations. The new design is not only innovative, but easy to navigate. Thank you! Nextfly is more than a web design company; they have helped us enhance our digital presence with ideas and recommendations. I'd like to extend a special thanks to Julie for her patience and guidance as I continue to learn the ropes of digital marketing in my new role. She's been fun to work with!"
— Stacia Matthews, Indiana Spine Group
Custom Design